Bui Thuy Ngoc
Trade Director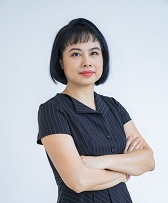 areas of expertise
Cross-border Trade Facilitation

Market Entry

Sales and Distribution

M&A Transaction Support
education
University of Foreign Languages, Vietnam

Carl Duilsberg Gesellschaft, Germany
With over 24 years of experience in management, business planning, and operations, Ngoc is currently working as a consultant in trade and business advisory. She brings foreign investors and local partners together and helps them overcome the cultural gaps and regulatory challenges that affect transaction success.
She has been involved in business matching and M&A facilitation in a range of sectors including organic agriculture, waste treatment, hydrogen production, handmade items, and vocational training drawing upon my strong connections with local businesses, government agencies, financial institutions and foreign investors.
VietNet comes up with results that are actually implementable. That is our strength compared to other consulting companies.
Before joining VietNet in 2019, Ngoc has held various senior management positions in multinational conglomerates including Leighton Holdings, ThyssenKrupp, Tuv Nord, and Pacifica Solutions. She was instrumental in developing their business in Vietnam since the start of Vietnam's economic reforms in the early 1990s.
A champion of social progress, Ngoc is governing Gabriela Francke Stiftung, a German non-government organisation that helps to improve the lives of disadvantaged children in the remote areas of Northern Vietnam.
Ngoc speaks native Vietnamese, fluent German, and English.
contact details
3301, Level 33, Block A3 Ecolife Capitol House 58 To Huu, Nam Tu Liem District, Hanoi